Suburban Sidewinder® Protection Sleeve
Suburban Sidewinder® Protection Sleeve

The Ballistic Nylon Sidewinder Sleeve is the best material for most general purpose applications, bundling hydraulic hoses/cables, traditional abrasion protection. The 1050B is widely used in agriculture, construction, oil, gas, forestry and mining applications. This material also is used on CE approved equipment for operator protection in the event of hose failure.

- Material: Mil-Spec 1050 Ballistic Nylon, 1.7 mil urethane coating
- Temperature Range: -60°F (-51°C) to +250°F (121°C)
- Abrasion Resistance: Very good tested to ISO 6945 specifications
- Puncture/Tear: Good; puncture and tear resistant
- UV Protection: Very good; meets EN13758-1, max rating of 80 New/Dry
- Chemicals: Very good resistance to water & oils
- Wicking: Good; sheds surface moisture
- Welding Sparks/Spall: NOT recommended
Features:
Allows hose movement while restricting motion
Reduces installation labor time by up to 70%
Post assembly installation prevents hydraulic system contamination
Fastest OEM assembly and field service
Easy retrofit to existing applications
Proprietary process allows cutting without fraying
Super low co-efficiency resists wear
Lightweight, tough, highly flexible
Sold in 150 ft. lengths
How to Determine Size
1. Extend cylinder rod to maximum length
2. Measure stroke and road end barrel diameter
3. Choose a size same, or larger than I.D. of barrel
4. Cut length 3-4" longer than stroke
5. Apply over barrel, and tighten with worm gear clamp
6. Fold rod end over, and tighten with worm gear clamp
7. Cycle the cylinder to insure proper function
Available in the following sizes. 150' Lengths.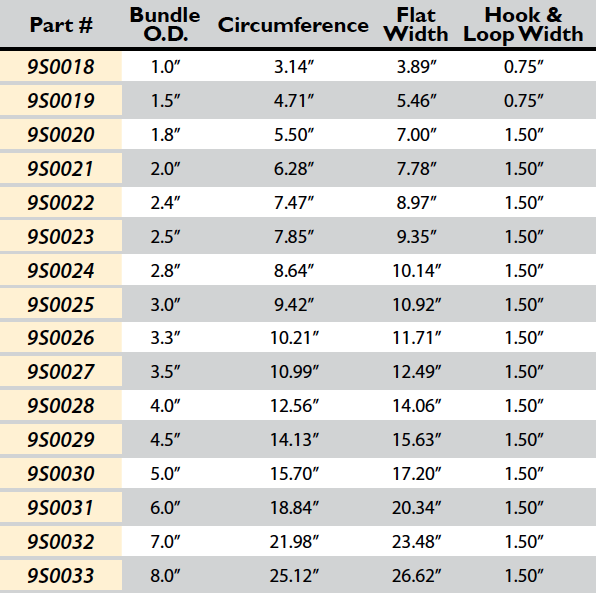 Part #'s 9S0018 - 9S0033
Suburban Mfg. SL-1.0-1050B – SL-8.0-1050B