TK-240XT Portable Tank Cleaning & Fuel Transfer System
TK-240XT Portable Tank Cleaning & Fuel Transfer System

The key to ensuring optimal fuel quality requires the removal and prevention of fuel contamination through filtration, the separation and removal of both free and emulsified water, and the conditioning of fuel to reduce the size of particulate clusters.  All of these processes together, configured in a kidney loop fashion to maximize the amount of fuel being polished, is exceptionally executed utilizing an AXI Fuel Polishing System.
The TK-240 Mobile Fuel Polishing System is designed to efficiently and safely clean and restore fuel to pristine condition. It incorporates a multi-stage filtration process that reconditions, stabilizes, and decontaminates diesel and biofuels.  The TK-240 system is specifically designed for tanks with contaminated fuel that require the removal of water, sediment and sludge accumulation.  The ultra-compact design is ideal for use on small tanks with limited access ports.

4GPM Portable 12VDC Fuel Polishing System / Kit Includes:
DripTray
Hoses & Clamps
WBS-3 Water Block Filter
AFC-710 Fuel Catalyst
LG-X 500 Fuel Conditioner
Pressure Gauge
Portable Tank Cleaning Systems feature:
Compact Industrial Lightweight Design for Portability
Quick Connect Power Connection
Spill Containment Tray
Convenient Carrying Handle


TK 240-XT SPECIFICATIONS
Flow Rate: 4 GPM / 240 GPH

T-Strainer  50 mesh


Secondary Filter: 10 μ Fine or 3 μ Water Block

Fuel Conditioner: LG-X 500 Inline Conditioner

Pump: Helical Spur Gear Pump

Power: 12V 10A

Port Size: 1/2" in, 1/2" out

Clear Suction Hose: 1/2", 15 ft

Flexible High Pressure Discharge Hose: 1/2", 15 ft

Dimensions: 13" x 12" x 12"


Weight: 26 lbs

Not for use with fluids that have a flash point below 100°F.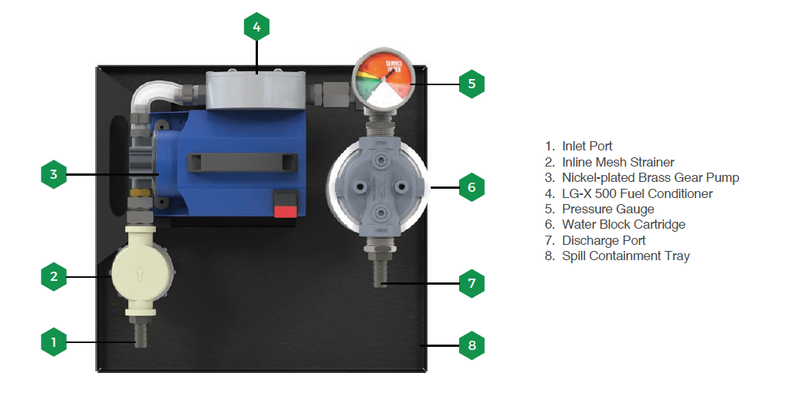 Part # 9A0002 Ships directly from AXI.

Purchase 1 Gallon AFC-705 Fuel Catalyst here.

Algae X 9A0002