Heli-Coil® Thread Repair Kits, Inch Coarse Thread (UNC)
Heli-Coil® Thread Repair Kits, Inch Coarse Thread (UNC)
When installed into Heli-Coil® STI tapped holes, inserts provide permanent conventional 60° internal screw threads that accommodate any standard bolt or screw. Heli-Coil threaded inserts boast a high wearing tensile strength, low thread friction with tight tolerances, and a high surface quality as well as corrosive- and heat-resistant properties. With Heli-Coil threads, tapped holes are strengthened and thread life is dramatically increased even after repeated assembly and disassembly. Tapped holes are easily incorporated into existing designs.

Individual Size Kits
Heli-Coil inserts are available in individual size kits in inch, metric, and pipe thread series. All kits have a quantity of inserts, the proper size drill, high speed steel Heli-Coil tap and an installation tool. The Professional Kits* also include a tang removal tool and qtys of 3 lengths of inserts.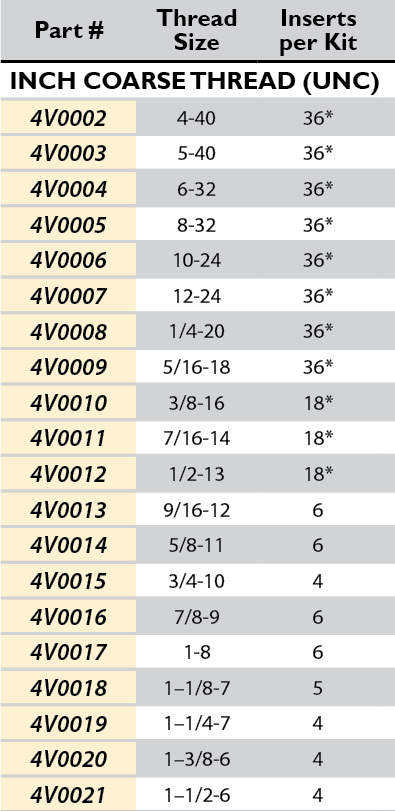 * The total quantity of inserts in the Professional Kits represents 3 lengths.
4V0002 4V0003 4V0008 4V0009 4V0010 4V0020 4V0021
5401-04 5401-05 5401-1 5401-4 5401-8 5401-10 5521-21
Ships separately.