Echo® CS-400 18" Chain Saw
Echo® CS-400 18" Chain Saw

Outstanding power and performance with professional features.

The CS-400 Chain Saw, in a bold new color, is a mid-range saw that features a 40.2 cc Power Boost Vortex™engine for power and performance, a G-Force Engine Air Pre-cleaner™ for a longer-lasting engine, a computerized ignition advance system, and i-30™ technology to reduce starting effort by 30%. The CS-400 is designed for the professional tree care operator, demanding farmer or rancher, and the discerning homeowner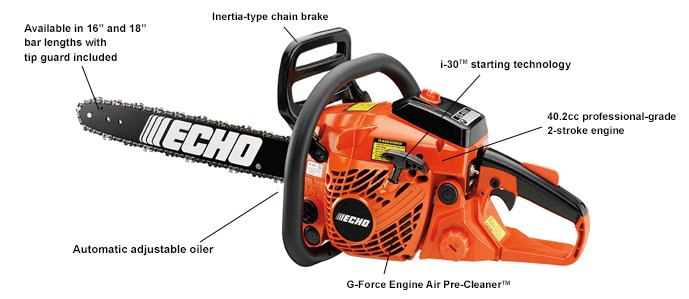 Specifications:

Bar Size: 18"

Engine Size: 40.2 cc
Fuel Capacity: 13.9 fl oz
Oil Capacity: 9.5 fl oz   
Dry Weight: 10.1 lbs
Warranty: 5-Year consumer; 1-Year commercial

Part # 3H0188
Ships directly from vendor, next day.