Pewag Grade 120 Tie Down Chains for Load Binders
Pewag Grade 120 Tie Down Chains for Load Binders

  Ensure your load is always protected with Pewag's Load Binder Securement Systems.

58% stronger than Grade 70 allowing downsizing of chains for less weight and easier handling
Higher wear and bending resistance for heavy applications.
With the same dimension of chain and workload, G120 offers a safety factor of 6:1 compared to G80 with 4:1.
Blue powder coated finish for excellent corrosion resistance and easy identification.
Working load limit, chain size and batch code stamped on handle with 1/4" tall raised letters
G120 meets or exceeds the following NACM/ASTM-test requirements for lifting chains: exceeds the 4:1 NACM safety factor
Chain accessories and hooks sold separately
Technical Data: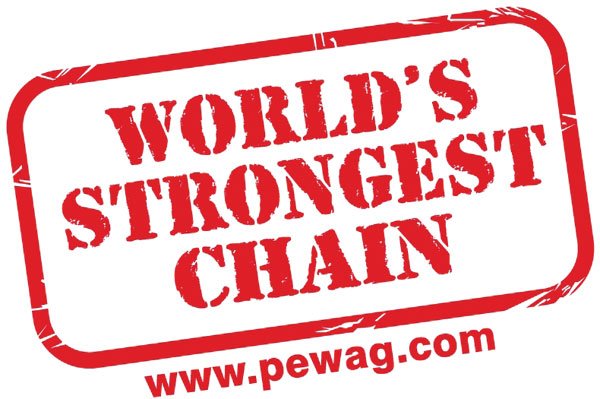 Hardness approx. 41 HRC
Nominal proof stress* 600 N/mm2
Nominal breaking stress* 1200 N/mm2
Elongation min. 20%
Heat resistance up to 400°F
Components fatigue tested to 20,000 cycles
Surface powder coated blue
*calculated acc. usual definition for round steel chain
1/2" Chain sizes available - give us a call, 563-872-5065


Call 855-219-6387 to order direct. Ships directly from Pewag.
1Q0036 1Q0037 1Q0038 1Q0039 1Q0040