1 Quart Hand Operated Hydraulic Pump
1 Quart Hand Operated Hydraulic Pump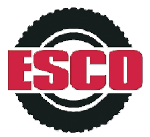 Hand Operated Hydraulic Pump.
This Esco Hand-Operated Hydraulic Pump easily breaks beads with no need for an air compressor - great for remote locations.
Phase: Single
Outlet Port (in.): 3/8-18 NPTF
10,000 psi hydraulic pressure
Reservoir Capacity: 40 cu. in.
Inlet Port (in.): 3/8-18 NPTF
Displacement (cu. in.): 0.16
1  quart oil capacity, shipped with premium hydraulic oil
Weight: 14 Ibs
3 Year Warranty
Hydraulic hose available for purchase separately.
Part # 3G0044 ESCO 10508
Hose ESCO 10603, 10604, 10610, 10611

Ships directly from Esco, typically within 1-2 business days.