The Checker® Inspection Check-List Books
The Checker® Inspection Check-List Books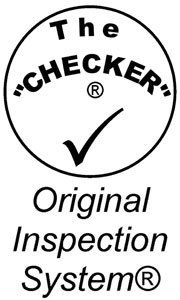 Our easy-to-use Checklist Books are different than any other inspection book you'll find. Our Checklists have five features that encourage personnel to buy in to inspecting equipment properly—giving you results, not complaining and indifference.
They are designed for specific types of equipment, with all necessary inspection items included for each particular equipment type, described with precise terminology.

Rather than having to check off every single item, the employees doing the inspections simply circle defects and provide brief comments about them. They still have to check off each section of the Checklist, so you get time savings with no loss of accuracy. (We also provide books with traditionally formatted check-off systems for commercial road vehicles.)

Rather than alphabetize items, or list them arbitrarily, our Checklist Books list items in circle-check sequence. We organize the inspection items on each Checklist in a way that's practical to the people doing the inspections in the field.

All Checklists are visually simple and clear so employees can easily locate inspection items and see what needs to be inspected.

Each Checklist Book has the same standardized layout regardless of equipment type, so there's no confusion and no need for learning new formats.
 
Each Checklist Book includes:
150 inspection Checklists (6-7 month supply for single-shift operations).
2 copies for each inspection—a carbonless tear-out and a permanent copy that stays in the book so it will never be misplaced.
Checklist Books Have Many Uses.
In additon to inspections, the Checklist format is perfect for conducting audits and safety walk-arounds.
The Checklists can be used to train employees how to properly inspect equipment before use.
The inspection information gathered provides valuable guidance to management, maintenance, and safety personnel.

Add on one of our Storage Pouches
Weatherproof, zippered holders protect and hold 1 or 2 Checker Books. Perfectly sized, sturdy, and mountable in vehicles or on walls, I-beams, etc. for convenient access.
Available in Small size which fits 4-1/2" x 7" inspection books, or Large size which holds 1 large 8-1/2"x11" inspection book, or 4-1/2" x 7" inspection books. Can also hold Operating Manual with approximate 1-3/4" to 2" thickness.

2F0002 2F0003 2F0004 2F0005 2F0020 2F0021 2F0022 2F00