Ratchet Binder Plus Loadbinder, 4 Pack
Ratchet Binder Plus Loadbinder, 4 Pack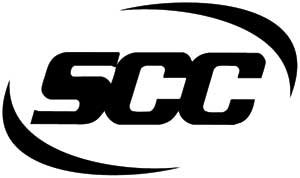 Ratchet Binder Plus Loadbinder
SCC loadbinders meet all DOT/CVSA/CCMTA requirements. Special hook construction supports the load of the chain and will not bind. Loadbinders are heat treated and proof tested with forged heat treated hooks. The Working Load Limit is permanently marked on the handle. SCC loadbinders feature special links with controlled flash welds. All SCC loadbinders are painted with yellow, powdercoat enamel.
SCC's new Ratchet Binder Plus has higher strength ratings for use with either Grade 70 (S-7) Transport or Grade 80 (T-8) Alloy tie-down chains.

This premium binder features high quality yellow zinc plated hooks.
Available for use with 3 chain sizes (5/16" - 5/8") / Working Load Limits (7,100 lbs - 18,100 lbs)
6.5" Take-Up
13.92" Handle Length
Sells as a pack of 4
Ships Freight directly from SCC.