Tuflex Roundslings, Eye and Eye (EE)
Tuflex Roundslings, Eye and Eye (EE)
Tuflex Roundsling is an endless synthetic sling made from a skein (continuous loop or hank) of polyester yarn covered by a double wall tubular jacket. The roundsling body can also be compared to sling webbing with the tubular jacket face yarns woven without binder yarns; this allows the core yarns to move independently within the jacket.


Promotes Safety


Light weight reduces fatigue and strain on riggers
Synthetic materials won't cut hands
Consistent matched lengths for better multiple sling load control
No loss of strength from abrasion to cover
Tuff-Tag provides serial numbered identification for traceability.
Low stretch (about 3% at rated capacity) - reduces sling and load abrasion - good for low headroom lifts
Conforms to shape of load to grip securely
Load bearing yarns protected from UV degradation
Red striped white core yarns provide added visual warning of sling damage
Color coding provides positive sling capacity information

Saves Money


Double wall cover for greater sling life
Soft cover won't scratch load surface
Conforms to shape of load to reduce load damage
Seamless - no sewn edges to rupture prematurely
Tuff-Tag provides required OSHA information for the life of the sling, not just the life of the tag

Saves Time


Color coded capacities for quick identification
Lightweight and pliable for easy rigging and storage
Independent core yarns choke tightly, but release easily after use
Easy to carry - high strength-to-weight ratio for easy transport
Tuflex Eye and Eye (EE)
A more rugged and durable Tuflex that features an additional jacket of texturized, abrasion-resistant nylon, covers the body of the standard Tuflex, forming two color coded lifting eyes. Maintains all the basic Tuflex features plus saves money by extending sling life where abrasion to sling body is a problem.
Available with 10", 12", and 14" Eye Length in Sling Lengths from 4' to 20' ;

Additional options available in our catalog starting on page 388. Call 855-219-6387 to order direct.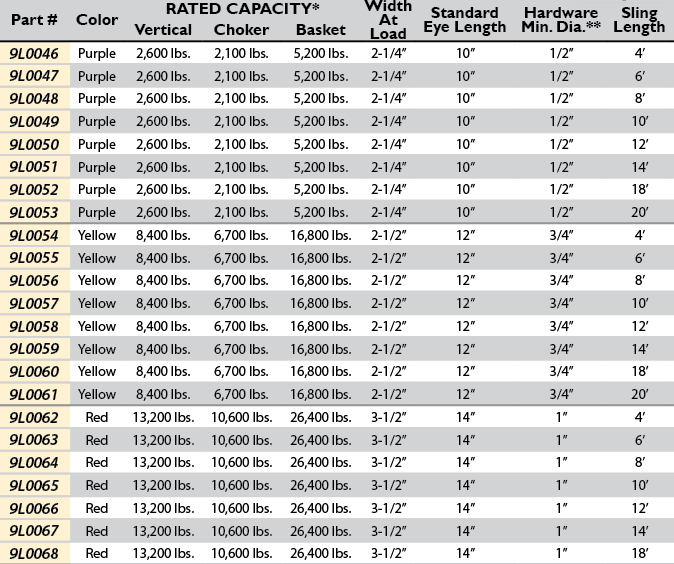 9L0046 9L0047 9L0054 9L0062 9L0068 liftall EE30X EE90X  EE150X

Ships directly from LiftAll. 3-4 day lead time.